What new parents of Heaven Sent puppies/dogs have said:
---
"Our experience with Kathy and Heaven Sent Biewers was just great! We picked up Mick at Kathy's home and it was obvious her dogs are loved and very well cared for. Mick was 5 months old when we picked him up, and it was clear he loved Kathy. We sat on her floor for over 2 hours and talked about dogs, held puppies, and got to know each other. And then there's Mick!! He is an amazing little dog! Not only is he a beautiful Biewer, but he is just delightful! He is gentle, loving and has just the cutest personality! We are in frequent contact with Kathy and she is always willing to answer questions. We feel very fortunate that our search for a Biewer led us to Kathy and Heaven Sent Biewers."
Juliet  and Johnetta
(Mick pictured above)

---
"We took delivery of Eddy, a happy, healthy, active male Biewer puppy (whose parents are Tobi and Ivette) in March 2008. Our lives have not been the same since. Every day he fills our home with joy, love and affection. Although weighing less than 5 pounds, Eddy projects the personality of a much larger dog.
It was quickly apparent to us that he had been well socialized and cared for as a puppy. Eddy immediately bonded with our 8 year old grandson with whom he loves to run, jump and play. He is a well behaved, calm, and submissive little dog that attracts a lot of attention in public and responds very well to small children and strangers wanting a closer look.
During our search for "just the right pet," Kathy made herself available to answer any and all questions quickly and honestly. By the time we took possession, we were well aware of all of Eddy's virtues, physical traits and medical history. Kathy has remained involved and equally available for questions after the sale. She has become an invaluable resource for us on all things Biewer. We can not recommend Kathy or her Heaven Sent Biewers highly enough." I only wish that more dog breeders followed her example."
Julie & Bill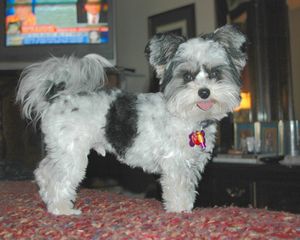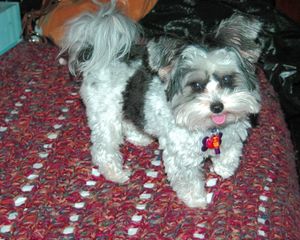 ---
"I bought my female Biewer from Kathy in May of 2008. I will never forget the feeling that I got when I first laid eyes on Kathy and Fantabulous Franny in the airport. I could not believe how cute she was and her pictures did not do justice to her beauty. Kathy has been more than helpful and extended herself in answering any questions that I have had in a timely manner. She has become one of my mentors and is always glad to help out. Believe me I have had many questions for her. She is very knowledgeable and personable. The experience went so well that I highly recommend her."
Jennifer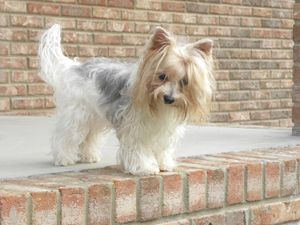 ---
"I worked with Kathy via phone and e-mail to find and obtain an adorable little Biewer Terrier from her in April this year (2009). I flew to Kansas, met Kathy, and returned to Utah with Ringo. He was 5 months old at the time.
My husband and I (and Ringo)traveled back east this summer and stopped in Marysville, KS for two nights to see Kathy,her husband, and her 4-legged friends (including 13 recently born puppies).
Ringo has been an exceptional dog for us - very lovable, well behaved, smart and gets along with everyone (2 or 4 legged).
I would highly recommend Kathy ("Heaven Sent Biewers")if you're looking for a wonderful pet and companion."
Gloria
---
"I began my search for my first Biewer in March 2009. I talked with several breeders and looked at pictures of several puppies, but just fell madly in love with a little boy at Heaven Sent and knew he was the one I had to have. About the time I was ready to make the trip to Kansas to see the adorable little boy, I heard a rumor from another breeder about Heaven Sent puppies not being properly cared for. I was just devastated and unsure about what to do. Kathy at Heaven Sent assured me that everything was fine and it was just a rumor. She gave me the name of her veterinarian and also the names of people who had previously bought puppies from Heaven Sent. They
also assured me it was not true and told me how wonderful their experience with Kathy was and how healthy their pups were. Kathy gave me the opportunity to back out if I wanted, but I decided the only way for me to know the truth was to make the trip myself. So I traveled to Kansas on April 4, 2009 to see the puppies for myself. And I'm so glad I made that trip! Raider(formerly Hoover) is the best little boy ever and I love him more than anything in the world! After seeing what a healthy, active and clean little pup Raider was and seeing some of Kathy's Biewers and how much she loves them, I now know that it was simply a rumor about her puppies being unhealthy. I couldn't have gotten a better puppy from a better breeder! I can tell that Kathy knows a lot about Biewers and has helped me so much with my first Biewer. And who knows, I may end up with another Heaven Sent Biewer someday! Kathy is also very easy to work with. I live about 8 hours from her and didn't really want to drive 16 hours in one day, so she agreed to meet us part way with little Raider. I would highly recommend Kathy to anyone looking for a Biewer puppy!  
Thanks for everything you have done for us and will do for us in the future, Kathy! Raider and I hope to see you again soon!!"
Savannah from Texas