The above picture is A-Emmelie von den Kobolden.  She was a super sweet girl and a tremendous producer.  Her last litter had 8 puppies, one of which was our dear Meri.  Tragedy struck us hard when Emmelie was killed by a coyote in the Fall of 2006.
 
---

I hope to share with you happier stories of past puppies and dogs from Heaven Sent Biewers.  If you would like for me to update pictures and/or add more information please let me know.  I would also like to invite you to submit a short blurb about your experiences with us to be put on our references page.

 
---
Essence/Chloe      
Meri and Tobias girl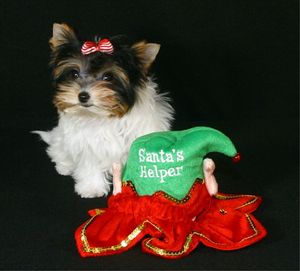 Christmas 2007-- Lives in CA

 
---
Piccolo/Sebastian
German imported boy was too big to be a breeder.  He was my first Biewer!


Picture taken 2006--Now lives in FL
 
---
Beauty
German imported girl did not get big enough for a breeder.  She is a whopping 3 pounds fully grown.
She was my first Biewer girl.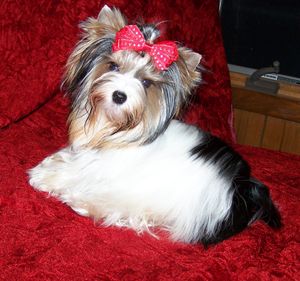 Picture taken December 06.   Beauty has found her perfect home in CA
 
---
Gumdrop
A Murphy daughter.  She did not get big enough to keep so we found her the perfect home.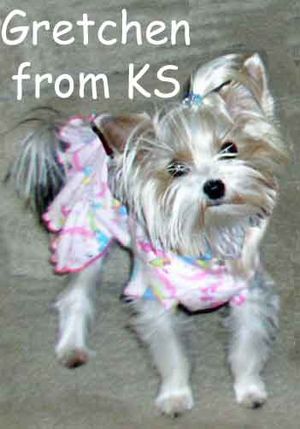 Now called Gretchen Gumdrop, lives in Topeka, Kansas with Amy and family
---

Raider
A Meri son,  Lived in Texas with mom, Savannah, a fur sister and several fur cousins.




Max
Hi Kathy,
I just wanted to drop you a line because it has been a while. Max is doing great! He's completely house trained and is great at his tricks. He's a very smart dog. 
He's not as quiet as he used to be; he likes to bark and growl when he's playing now. It's so fun watching him try to act tough! He also comes to tell you that he needs to go outside, we love it! 
He had a good birthday! He got a new toy that actually lasted 2 weeks before he got it tore open (he loves to pull the stuffing out of his toys!) and he got a couple chew bones he got to go hide all over the house and yard. We had a party hat for him but he didn't seem to like it very much so it didn't stay on long.
Kristina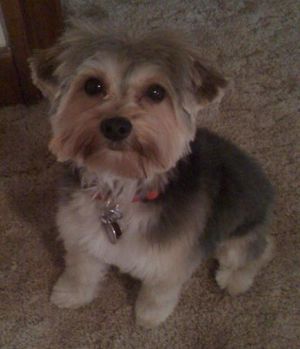 Max at one year old!